Features:
Non-clogging impeller, minimized abrasive wear,large impeller clearance, and maintenance free.
Pump is equipped with motor overload protector,it will shut off automatically to prevent motor from burnout whenever its voltage drop, impeller plugged, and other unusual conditions.
The mechanical seal part combines with superb double set mechanical seals, and can select SIC carbon steel mechanical seal.
Auto float switch is opitional, to operate submersible pumps automatically.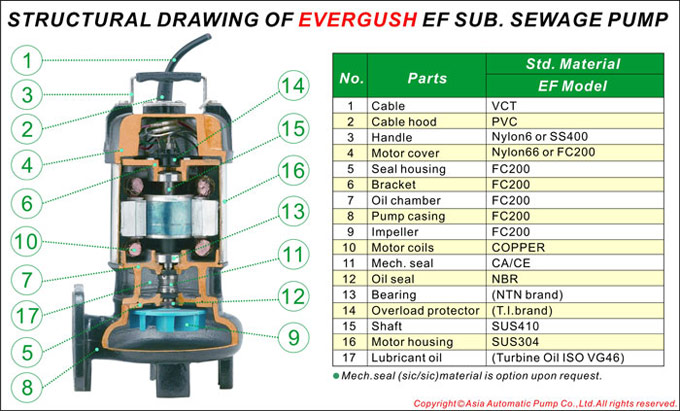 ---
Applications:
Building waste water treatment system, sewage treatment plant, community market.
Drainage waste water from industry and factory.
Fishery, animal husbandry, dairy farm, piggery,fecal sewage tank.
Other sewage or sump treatment system.
---
Operating Conditions:
Ambinent Temperature: 0~+40℃
Liquid Teperature: +0~+40℃
Surbmergence: Max. 10M
No 24 hrs continously operation
No use in sea water.
Solid passage: 35~50MM
---
Specifications:
Power: 0.5HP~15HP (0.37KW~11KW)
Motor: IP68 / Insulation F
Voltage:
1Phase 110/220~240V (1/2HP~2HP)
3Phase 220V/380V/415V/440V)(All models)
Pole: Only 2P
Frequency: 50Hz/60Hz
Max. Head: 34M(50HZ) / 40M(60HZ)
Max. Capacity: 150M³/Hr (2,500 LPM)